Agribus-G2
ハイエンドな自動操舵に対応した超高精度スマートGNSS/GPSデバイス
Regular price
Sale price
¥440,000
Unit price
per
Sale
Sold out
Share
By connecting Bluetooth with a smartphone tablet that installs Agribus-navi on a tractor, it provides an ultra-high GPS guidance. It also supports automatic steering by combining with Agribus-Autosteer. Function expansion corresponding to car speed pulse output and ISOBUS/AG-Port is also planned, so it can be used for multiple purposes.

[Delivery date]

After payment is confirmed, it will be shipped within 5 business days.

【Description of item】

Ultra -high -precision location information
Equipped with U-BLOX 2 frequency module ZED-F9P. The 2 -frequency RTK allows the centimeter -class ultra -high accuracy position.
In addition, you can use an Internet connection function and connect to the GNSS correction information provision service by itself to use centimeter -class location information.
* "Agribus-Gminir" is used as a reference station for RTK-GNSS, and the correction information is transferred to Agribus-G2 with the RTK-GNSS correction information transfer service "Agribus-Caster", and the centimeter-class location information is used. You can use it.
* In order to use Agribus-Caster, you need to register for "Agribus-Web" and subscribe to the "Agribus-Navi" app.
* 3G communication with Agribus-G2 requires joining a standard plan.
Accurate direction output
The correct direction is detected by installing two GNSS modules. The display is not disturbed even when working in front and rear or low -speed work.
Pulse -linked pulse output
A vehicle speed pulse output that supports domestic tractors and imported tractors.
You can connect to a work machine with a vehicle speed linking function to perform precise work.
There is no need to attach the sensor to the complicated wheels or adjust it after installation.
Bluetooth connection that is ideal for tablet and smartphone
Compatible with Bluetooth wireless connection.
You can use it while charging the dablet smartphone.
ISOBUS/AG-Port compatible (planned)
Workers that support domestic and overseas standards can be connected (Note: Currently under development. Certification will be obtained).
ISOBUS: A communication standard formulated by the International Agricultural Electronic Foundation AEF.
AG-PORT: A communication standard formulated by the Japan Agricultural Machinery Association.
Scalability
By rewriting the built -in software, it supports version upgrade and function expansion.
You can use it for a long time.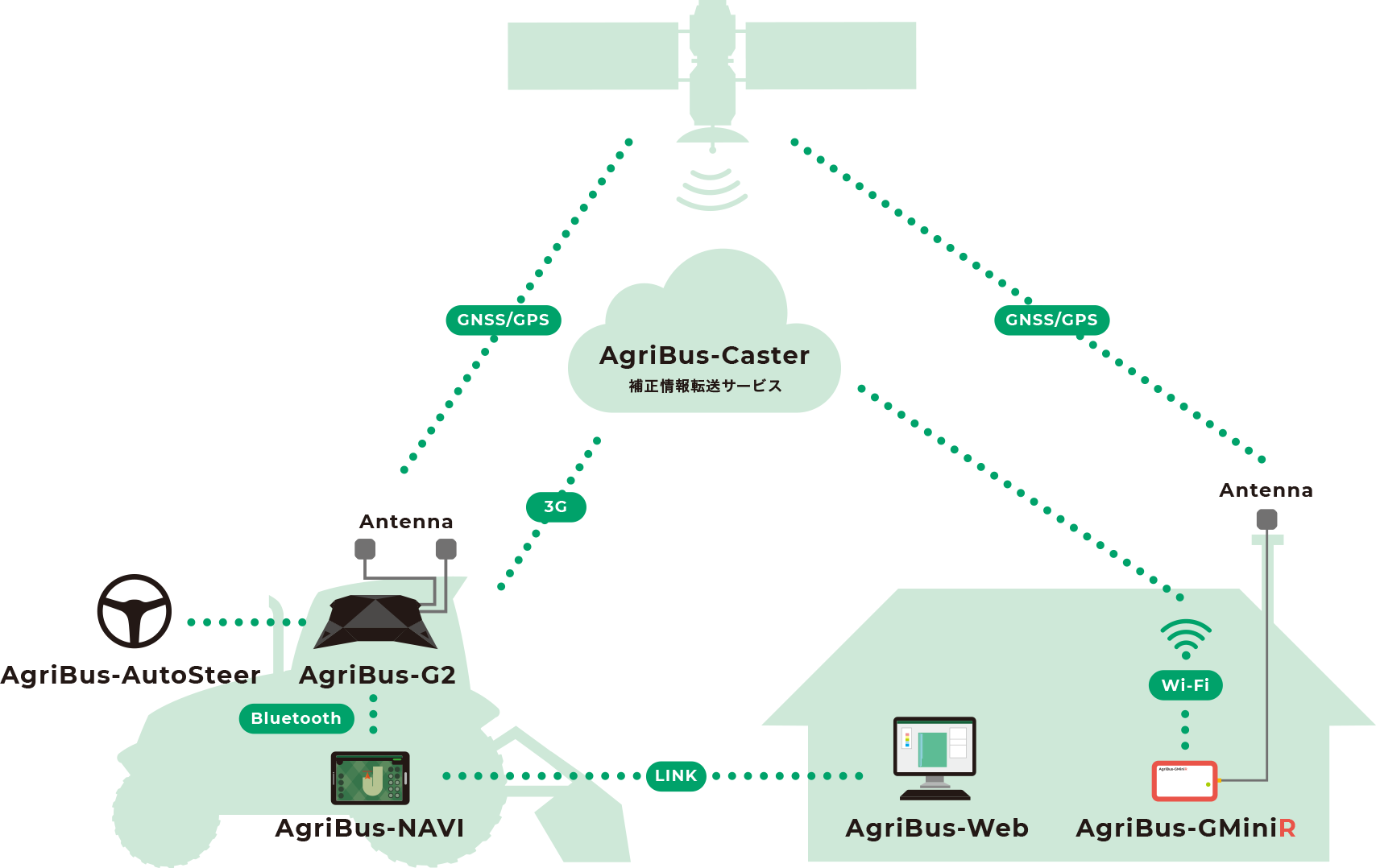 GPS/GNSS
U-BLOX 2 frequency module ZED-F9P × 2
RTK positioning accuracy: 0.01m ( *)
Solo positioning accuracy: Submeter class
* It depends on the air condition, the length of the baseline, the GNSS antenna, the multi -pass condition, the visibility of the satellite, and the geometry.
I/f
Wireless: Wi-Fi 802.11 B/G/N (2.4GHz), Bluetooth V4.2 BR/EDR AND BLE, 3G, LORA
Wired: Can x 2, RS232/UART x 1
Car speed pulse output
Domestic tractor method (open collector output)
Overseas tractor method (voltage output, ISO11786 specification)
ISOBUS/AG-Port (under development)
TECU output such as car speed, engine / PTO rotation speed
GNSS information output by NMEA2000 method
I/O
Digital input / output (2 ports each)
Analog input / output (2 ports each)
Obout posture inspection
9 -axis IMU (gyro sensor, acceleration sensor, electronic compass)
power supply
DC12-24 [V]
size
248mm x 248mm x 65mm